Just like with any other profession, whatever it is you do in life you want to make sure you look suitable and reliable for the work you do. In my IT days dressing up consisted of dress shoes, slacks, polo or button-down shirt, and sometimes a tie. I didn't like it and I am glad I don't have to wear clothes that do not allow me to express myself. After becoming a bike messenger I learned so much about the bike messenger culture, I didn't know much about what bag to use, what clothes to wear. Now after years of working in the industry, I learned what to wear to feel comfortable and look professional. Wearing the right bike messenger gear just makes the work more exciting. You should also make sure to have quality bike messenger accessories and tools to be prepared to handle any task. But you don't have to be a bike messenger to wear nice urban gear that is comfortable for cycling. Chrome Industries is a great brand that offers great everyday clothing and accessories but particularly for those who commute via bicycle daily.
Comfortable and Durable Wear
Every day I look forward to cycling, my work is all about cycling so I love to wear comfortable and durable clothing. The Union Shorts 2.0 are an excellent pair of shorts, they do stretch which makes them even more comfortable for riding. I trust Chrome when it comes to their shorts. I don't like the feeling of not being able to hop on my bike without the crouch area getting in the way. I own several other brands, but they just aren't as flexible as Chrome shorts. Not to say that all my other shorts are bad, but I do have some that I will never wear if I am going to be on my bike. The Union Shorts, at least from my experience are pretty water-resistant. Even when they did get wet, I noticed they dry pretty fast so that's a plus. The fit is perfect, I don't like wearing baggy shorts.
Union Shorts 2.0 By Chrome Industries

Converse Chuck Taylor
Converse Chuck Taylor is perfect for the spring and summer months because they are light and very comfortable and can fit into pedal straps very easily. But also, how can you go wrong with these shoes even on a casual day. Just throw on a pair of nice denim or even khakis and a nice shirt and you'll be stylin'. These shoes are also very affordable I usually buy more than one pair at a time. I started wearing chucks back in 2002 and since then they are still my favorite shoes for the warmer months, even chilly. For very cold winters there is another pair of chucks that help keep the feet very warm and dry but I'll go over those in another post. Chuck Taylor shoes are very simple, yet fashionable and very affordable. You can buy 2 pairs at a time which is less than the price of a pair of Jordan shoes or any other expensive brand. They can be worn anywhere, from hanging out at the park to meeting with friends at the bar, or even at office meetings. 
Comfortable Converse Shoes For Everyday Wear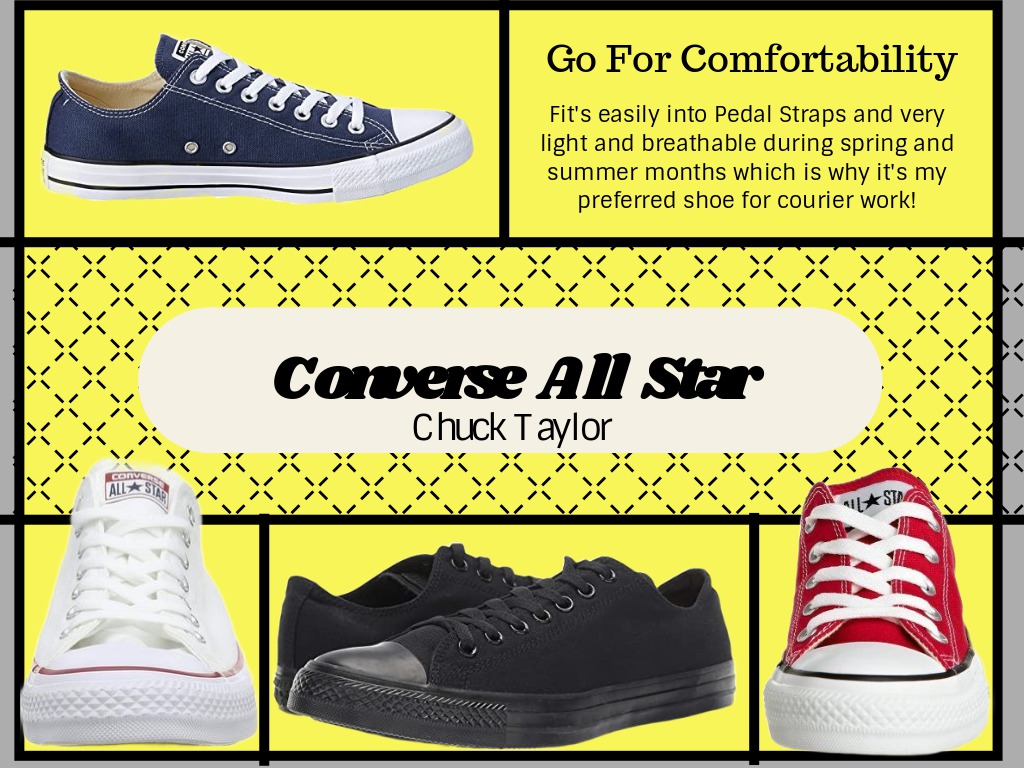 Converse All Star Low Top

Smartphone Pouch
The smartphone case from Manhattan Portage is an excellent product, it looks great as well, perfect for any 5.8 or 6-inch phone. It's made from very durable Cordura fabric and can handle all weather elements. It's very uncomfortable to ride a bike with a smartphone in your pocket, especially if your clothes are fitted. Not only will it look ugly like your riding around with a tumor on your leg, but it's uncomfortable and reduces mobility. It's like riding a bike with a sore leg that you can't fully extend, not to mention more radiation exposure and for you men out there, it does have an effect on your sperm count, so you want to make sure to protect your family jewels. There are plenty of smartphone cases or pouches available that you can strap to your backpack, or clip onto your belt. I personally prefer it on my backpack strap. It's more easily accessible, and overall just more comfortable. I don't like feeling like I have pockets full, or just anything getting in the way period.
Chrome Industries Bag
There are many companies out there that offer a variety of bags from messenger bags, to roll-top bags and camera bags. One of the biggest names is Chrome Industries, they offer a variety of bags, and very cool clothing and accessories. Their bags are made with bike messengers in mind so they know what we messengers need in a bag. They make high-quality products that last for years and can withstand any kind of weather and also with a lot of room. The Warsaw 2.0 by Chrome Industries is a large 55-liter heavy-duty bag, great for carrying large loads, you can even fit a 4-year-old into this thing. It comes stitched with straps that you can use to secure large boxes which I love because there is no need for bungee cords. It has secure pockets to fit in documents, pens, and other accessories such as a laptop, and it's waterproof so all packages will remain nice and dry.
Bike Lights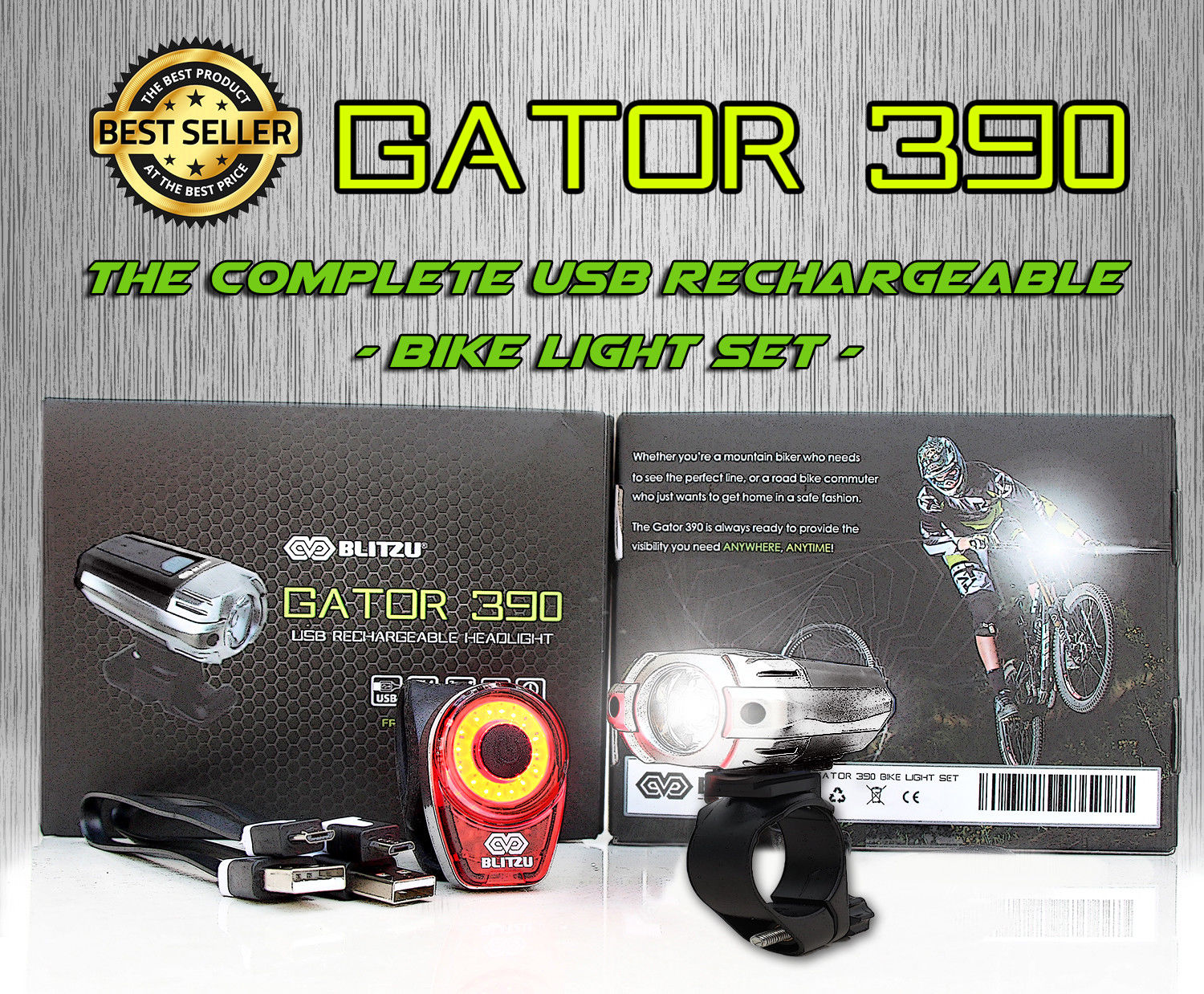 The number one rule to stay safe when riding in a congested city is to make yourself noticeable. During the day I shout, wave my hands, or tap on cars which is okay to do during the day, but visibility at night is not as clear so lights are a must to stay safer out there. They also look very cool, I really like them and they have all sorts of colors. I just have a front and rear light, but some riders like to take that extra mile and light up their whole bike ?. If there is such thing as a bike nerd, then yeah a bunch of lights on your bike will definitely earn you that status, nothing wrong with that, but definitely not my style. The Blitzu Gator 390 is a great light, and rechargeable which is a plus for this item, I don't like having to switch batteries all the time and it comes with a free tail light which is cool. On the lowest or flashing setting the light lasts for about 5 to 6 hours. On the highest setting, the run-time is 2 hours. It's a super bright light, it provides a 390-lumen output and anyone who can't spot you must be blind, you can be seen from up to 300 feet away. You can also use it on your skateboard or scooter so my articles aren't just for cyclists I mean if you skate often, especially in the winter, or ride a scooter then my advice pretty much applies to all of that. I've seen skateboard messengers, not often but they are out there. Another cool item for the Blitzu light is this mounting strap which is a lot easier to install and remove, unlike the original one the light comes with which is made from hard plastic and has to be screwed on and it's easy to break.
The Blitzu Gator 390 Bike Light Very Bright 390-Lumen

Complete Solution - New Improved Mounting Bracket

Always Be Prepared
Dressing for the part, having the right bike messenger gear and bike messenger accessories is important to be comfortable and professional in this line of work. But even if you're just a commuter it's still nice to have everything you need. A great lock is a must, I recommend something hard to break. Kryptonite offers a variety of locks, and learning to change bicycle tubes unless you have tubeless tires is also a great thing to know. I always carry a pair with me just in case. You can always search for the nearest bike shop, here in New York City there are many but depending on where you are, you might not be so lucky. Also, bike shops typically open after 10:00 am here in New York so I don't want to experience a flat and wait until a bike shop opens. I learned a lot since I started working as a courier and so I speak from experience and I ride like an experienced rider. Until next time everyone, I hope you find this article super informative, please leave your comments and questions down below, stay safe! ??
Get Notified Of New Articles