Quite a few people have asked me what is life like as a bike messenger, especially when it's a nice spring or summer day. They think of us as being free-riding our bikes around and yes that is a part of the job, but I always tell them it depends on a person's character. Not everyone is cut out for life as a bike messenger, it's a lot of work so for those who don't enjoy exercise it will be a challenge and this can either encourage someone or do the total opposite. My advice for anyone that is curious is to just go out there and try it out because you might discover a passion you never knew you had, and there are many health benefits of bike riding all day so that's a plus, watching over your health is always a great thing. I was always a very active person but never thought I'd be so passionate about riding around the city delivering food and documents and becoming the hardcore messenger that I am today.
Bike Messenger Work Is Fun But Hard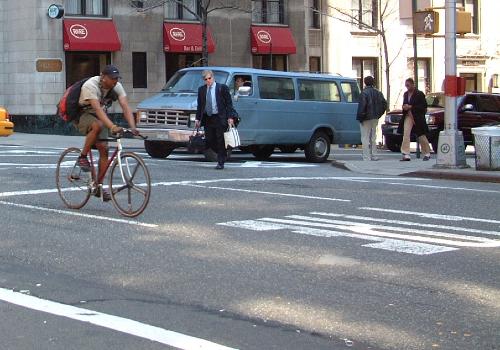 Working as a bike messenger in New York City has its many challenges. It's great if you are passionate about riding your bike around, you will kill time quickly, and no day is the same. Riding around NYC traffic is like a maze, always with a different pattern and full of unexpected surprises so you have to be alert at all times. Who is most likely to enjoy this job? Besides having a passion for riding, you have to be prepared to work in all kinds of weather, hot or cold, dry or wet. The hours can be long, so you have to be in great condition and then there is the loneliness. Sure you can stop by a hangout spot and chill out with some of the homies, but most of the time you will be by yourself. So if you don't like working alone then this job might not be for you. The pay is also a major factor. You are not going to make much per drop but if you put in the hours on a busy day, you will take home a nice amount.
How To Become a Bike Messenger | 5 Steps To Get Started
I don't come across many people who ask me how to become a bike messenger but I do know they are out there, and I try to encourage couriers when I come across them because I know not everyone chose to be a courier because they wanted to, some felt they had no other option but there is always an option. I just feel that if they are out there riding a bike, they might as well learn to enjoy it. Some will get it, some won't unfortunately, but if they learn the skills and begin to realize the freedom they have, and that they can become pros, join competitions, then maybe this will help them view themselves as professional athletes/entrepreneurs rather than just some bike messenger because that's what I am, an underground athlete riding around the city delivering peoples packages on time. Below are 5 steps to get started for those interested in getting their foot in the door.
If you are curious go out there and do it, the longer you think about it the more you will find reasons why not to do it.
There are plenty of gigs out there such as UberEats, Doordash, and Capsule.
Don't make the same mistake I did and look like a complete amateur, get a decent bike that works for you, not a Walmart bike or some used torn-down bike. Get a nice road bike if you can't ride fixed, but if you want to try a fixed gear please be careful and practice, don't rush, ride slow if you have to. If you want to ride an electric bike go ahead but that's not my style.
I recommend taking it easy at first so your body can adjust, and make sure to do plenty of exercise at home on your off days to improve your physical conditioning so you can perform at your best and you will notice you'll be able to ride longer.
Eat healthy foods that will provide you with the energy you'll need and help you recover after a hard day of work, eat plenty of healthy proteins and carbs, protein shakes are great, together with multivitamins,  and fish oil pills for superb health. You can learn more about the benefits of fish oil by clicking here.  Also, be sure to read up on my review on Bulksupplements.
Health Benefits Of Bike Riding
One of the great things about being a courier is that you will make an income while getting exercise at the same time. I always found it more challenging to exercise after work. I made it a routine when I was in IT to hit the boxing gym after work. It wasn't easy I had to make it a habit, but if your looking to be in shape, and think you'd enjoy making some money riding your bike then this will be an easy thing for you, just watch out for your calorie intake, or should I say stay away from fast food, make sure you consume healthy calories since your body will require more calories with all that bike riding along with plenty of fluids, but it is okay to treat yourself every now and then and grab a burger or some pizza. I do this every Friday. So what are some of the benefits of bike riding?
Do you have skinny legs and are tired of looking like a flamingo? Your worries are about to be over, yes ladies and gentlemen, riding your bike is the cure to this strange disease. You will definitely notice a change in your legs, regular cycling will tone up your thighs and calf's nicely, especially if you follow a lower body workout routine, cycling alone though is enough to make changes, and it's easy, all you gotta do is pedal and that's it.
You will develop great cardiovascular health all while looking cool riding your bike, not on a Walmart bike though, and looking cool will come within time as you get more experience so be careful out there, please. New York City contains plenty of hills that will increase stamina and build your leg and abdominal muscles, just make sure to take in the proper nutrients to get results, Bulk Supplements offers a great line of products that can help you achieve your fitness goals.
Bike riding is a great stress reliever, I can't think of a day when I got home with any stress. If you are feeling down, get on your bike, turn on your Bluetooth speaker and enjoy a nice ride, if it's sunny out even better.
Ready To Give It A Try?
For those who were wondering about life as a bike messenger, after reading this article and watching the above videos I hope you better understand just how cool and important we are to society, and the health benefits of bike riding are just amazing. If you have been thinking about becoming a bike courier then I hope you found this information helpful and motivational. You should now have a clearer picture of what it's like to be a bike messenger, I even provided 5 steps to get started. Also, you must be creative, if you are a photographer, an artist of any kind, and are always looking for fun ways to put a puzzle together then you will have no issue with this job, I have gotten packages that wouldn't fit in my bag that's why I carry a heavy-duty bungee cord and try to figure out how to strap it to my bag without it falling off. In this life everything is possible. I hope you enjoyed this post, there will be more fun stuff ahead, please leave your comments/questions down below and I will be more than happy to answer them.
All The Best,
Emilio "SYCONYC" Simon