How you feel in the morning will determine your day, and we all love great days. In this article I will go over the importance of a morning routine and recommend quality coffee for cyclists and the great benefits of drinking this morning beverage. Morning routines that you should consider incorporating into your lifestyle should be things that motivate you and help you stay healthy. There are routines that can help you in many areas of your life, and I am a bicycle messenger, a very athletic individual so some of my daily morning routines include exercise, prayer, meditation, and of course coffee. Exercise in the morning helps get my blood and oxygen flowing so I feel alert, and sharp, which is important for me because being a bike messenger requires great energy and focus because it can be a dangerous job. Prayer and mediation help clear my thoughts, and it also calms my mind and soul and helps me prepare mentally for anything, and then of course coffee, and besides helping you stay alert, for those of you who don't know coffee offers great health benefits.
Health Benefits Of Drinking Coffee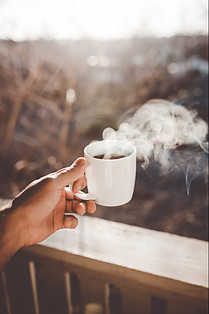 Coffee is the world's favorite morning beverage, and it's also very healthy despite the negative effects some of you might've heard from too much coffee drinking, such as damage to the central nervous system. Now I'm not saying consuming 10 cups a day is healthy, but you should definitely take advantage of the benefits it may offer especially if you're an athlete. Like tea, coffee is loaded with antioxidants and studies show that coffee drinkers are at lower risk of developing several serious diseases, such as Alzheimer's and cancer, and it helps keep your liver healthy. The caffeine in coffee will increase your metabolic rate which is great to burn fat and it can be taken pre-workout to boost the fat-burning effect. Coffee can also help with muscle recovery, so it serves well as a post-workout drink. I am a coffee lover and the smell of fresh coffee in the morning gets me in a great mood. It's very relaxing, especially on a beautiful sunny day if the temperature is just right. Coffee helps decrease the amount of uric acid in the blood, which can help prevent the risk of developing gout and arthritis. The antioxidants found in coffee protect the body from free radical-induced tissue damage, which will allow your muscles to recover faster. To learn more about the great benefits of drinking coffee click here. I am a coffee lover, so besides all the great health benefits, I enjoy the smell of freshly brewed coffee in the morning. It gets my day started right, especially on a nice sunny day if the temperature is right. It helps me relax, concentrate and plan my day! Bottoms up, cheers!
Check Out This Cool Donald Trump Mug!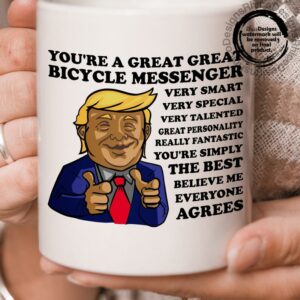 You know, I had Donald Trump all wrong, but now that I know he loves bike messengers I'm beginning to like the guy. 😁 Donald Trump is all for bike messengers, so make sure you show support by drinking coffee from this hilarious mug. I'm not much into politics so I have nothing much to say about Donald Trump, but when I came across this masterpiece I just had to share it with everyone in the cycling/bike courier community. Bahaha 😂 you don't believe that he loves bike couriers? Check out the video below featuring Squid one of New York City's most well-known bicycle messengers on Fox 5 news! 
Need Great Coffee To Go With That Mug?
You need great coffee to go with that Trump mug and Valhalla Organic Coffee is a great choice. Birthed from the Volcanic earth of Indonesia this blend has a very robust flavor, really smooth and the caffeine quality will sure give you the boost you need, it's perfect for cycling. Rich in antioxidants, the Valhalla organic blend of carefully selected premium Arabica and Robusta coffee beans may also help reduce inflammation so it's a great post-workout/cycling before to ease sore muscles and achy joints. This product has received other great reviews as well so you can't go wrong with this quality product. It's a bit pricier than the regular stuff I used to buy but it's worth it, I rather spend my money on quality. 


Everything Messengers Need To Start Their Day
So with this super cool mug, you'll need the perfect coffee to go inside that mug. So whenever you feel you need a bit of motivation, just remember Donald Trump supports you, you are a great bicycle messenger!
I hope you enjoy your new purchase guys! Thanks for stopping by and if you enjoyed this article please be sure to subscribe to our newsletter to receive new posts to your email. Ride safe and take care!
Best Wishes!
Emilio "SYCONYC'