Having the best puncture-resistant bicycle tires makes life easier if you ride on a daily basis, and can save a lot of time. Especially during winter months; it's tough fixing flats out in the cold especially if it's raining or snowing. There is a tire that will last you a long time, and you will almost never experience a flat. They aren't the greatest for comfort and they might not be as fast but they will definitely make you feel secure, knowing you have very tough, durable puncture-resistant tires will give you peace of mind, and who doesn't like that right? I will go over the Continental Gatorskin Hardshell which is the perfect tire for those who don't want to worry about getting flats, especially if you are a courier, food delivery rider, and are not familiar with fixing flats yourself. Great tire for newbies, but even pros rely on them depending on their preference.
The Famous Gatorskin Tires
A favorite tire among couriers is the Continental Gatorskin tires. The grip on these tires is not great, but I personally didn't really have any problems riding during snow or rain, not great for sharp turns either but it's not their purpose anyway. Everyone has their preference, with their own opinions, some riders hate them especially if they are racers, but if you're a courier these will benefit you in many ways, especially if you work a lot of hours, you want to make sure you have very durable tires that are almost puncture-proof. There is another Continental tire with great grip, the Grand Prix 4. I can feel the rubber stick to the ground and I'm able to make sharp turns no problem but aren't as puncture-resistant but still a great tire. You can read more about the Grand Prix 4 here. Check out some reviews for the Gatorskins down below!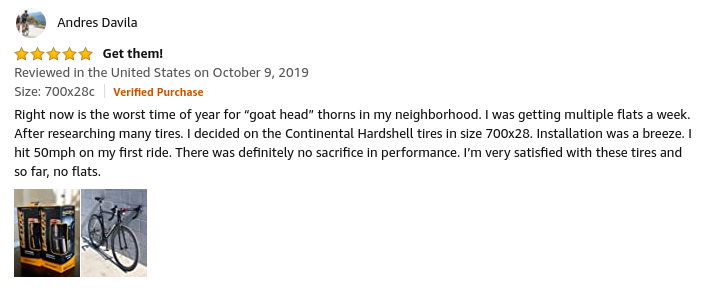 Hard To Get On The Rim At First
Just like anything new, at first, the tires are pretty tight. Like a brand new pair of sneakers, new jeans, shorts, or a brand new girl 😂 Just joking ladies don't come after me! After a few rides, the Gatorskins become loose. If you're inexperienced, but even if you are experienced tire levers really come in handy. Continental does offer tire tubes with free levers so you might want to check them out. Below is a video tutorial so you can learn how to replace tubes yourself. Trust me, it's a skill you must learn to make your life easier. But remember, if you have Continental Gatorskin tires, you will rarely get any flats!
Ready To Ride Worry-Free?
Don't get me wrong, I do love these tires, but everyone is different. I have been a courier for over 4 years so I'm experienced and I don't mind swapping out a tire tube. I can do it with ease, but I do have my moments where I wish I didn't have to worry about flats. I'm sure people who don't know how to replace tubes would really appreciate this tire, trust me. You will almost never get a flat! Now that winter is just around the corner, you might thank me for this product review. New York City has some very messed up streets, and during winter especially if it's snowing I'm sure you will be glad you will almost never have to worry about being stuck in the cold trying to fix a flat, so take advantage now and be flat-proof this winter.
Order Your Pair Today | Worth The Price | Guaranteed Quality

Check Out The Continental Inner Tubes!

I hope you found this review very helpful if you have any questions about the products above feel free to post your comments down below! If you're looking for tips, or if you're a new courier or thinking of becoming one feel free to reach out with questions you may have related to cycling/courier work! Stay Safe!
Best Wishes,
Emilio "SYCONYC"